FAQ
Visa support / Migration Card
Migration Card

Effective November 25, 2002, Monday, all foreigners are obliged to fill in special migration cards, which is given to them the instant they cross the Russian border.

Entry into the country and actual length of the permitted stay now largely depend on information given in the card and during the "interview" with the visa officials.

Every foreign citizen arriving in Russia has to complete a migration card while passing through customs. It consists of two sections and the top portion is immediately collected by the passport/visa control officials, while the bottom part is collected when the person leaves the country to return home.

It is required to put in the migration card personal data, terms of stay in Russia and purposes of visit and the prospective stay of residence. It is a must to fill in the name of the inviting company and the address of the inviting company. Everyone, who has not put a registration mark due to the address of prospective stay of residence within three days, will be considered illegal.

Migration cards are numbered, but are printed and have no watermarks.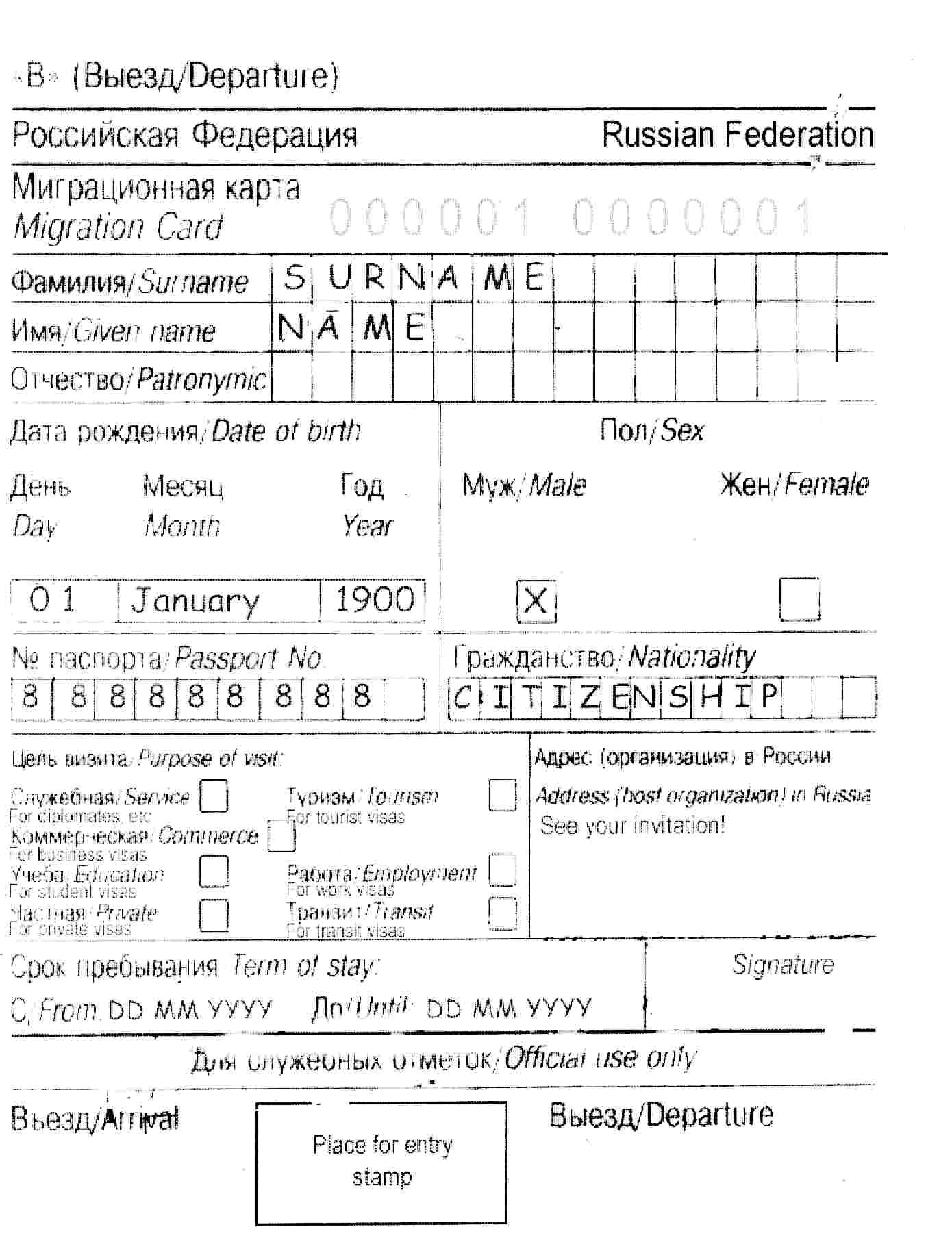 The implication of this procedure for you:
• When entering Russia, you will be asked about the inviting organization or travel agency.
• For tourist visas: Those who travel on their own need not forget that their visa is issued according to a specific travel agency' visa support. They need to make sure to name this company when asked. If information they provide does not match the official information on their visa, they risk being deported immediately. It is highly advisable to have a copy of their visa 'invitation' a.k.a. voucher in hand and to know the name of their 'inviting organization'. If you provide information to the Russian border patrol officials that this is contrary to your official invitation and visa, you risk not being allowed into the country.
• For business visas: You need to make sure to name their 'inviting organization' and its address. If you travel on business visa, it is unadvisable to mention private matters or employment with another company in Russia as purpose of their visit! You will need to inform the Russian officials accordingly (choose the "kommercheskaya" purose of visit) and be prepared to show copies of the official invitation. Those who provide information that is contrary to his or her official invitation, risk to be deported immediately.
• Foreign visitors are also asked how long they intend to spend in Russia – and may be asked to show a proof – return tickets, for example. Their migration card will then be stamped with a specific departure date – according to this information! Even if the visa is good for a full 30 days, for example, but the migration card was issued for only 25 days, that person will need to leave Russia IN 25 DAYS or before the date on his or her migration card.
• Important: Please keep the bottom part of your migration card for the whole period of your stay in Russia - it is a must to present it when registering your visa in Russia and when leaving Russia! It is important to make sure that you don't lose your Migration Card. According to the new law, if you don't hand in your Migration card when leaving Russia, you may not be let in the next time! We recommend stapling it into your passport.
Sample of a migration card can be viewed here.

Visa support